Tintas Mc Matriz - See information about the company, phone number, store addresses and website.
Find out about the types of products supplied and the main regions served in Brazil.
MC Paints Ltd.
It is located on Avenida Prof.
Abraão de Morais, 378 São Paulo, SP, 04123-000.
E-mail for service:
sac@tintasmc.com.br
and telephone number:
(11) 5085-3000.
About TINTAS MC Franchise
MC Paints: Brazilian Paint Stores and Franchise
, for more than 53 years, selling real estate, industrial and automotive paints, as well as accessories from the most respected brands in the painting and repair business.
It offers excellent service and has more than 50 stores spread across São Paulo, Baixada Santista and ABC, in São Paulo.
Today it is without a doubt one of the biggest companies in the sector of paint stores in Brazil, therefore, Tintas MC has the Mission "To make Brazil a more beautiful nation, being the main choice of those who think about buying paints".
The Tintas MC brand was founded on April 16, 1964, in São Paulo, by Manoel dos Santos Sá, his two brothers, Armando and Amilcar José de Sá, the latter working in the organization until today, with the aim of making the brand grow. in the paint market more and more.
The historical background of Tintas MC is an illustration of vanguardism, cutting-edge soul and an amazing transformation in the specific paint retail market in Brazil.
Nowadays, as varieties are valued, they mark an achievement, characterize a solid brand and Tintas MC is essential for this set of development experiences with in-depth information about the desires of its consumer public.
Source: https://youtu.be/aK-wylKP1pc
Tintas MC is one of the largest chain of paint stores in Brazil, in the market for paints, house paints, car resurfacing, adornments and specialized appliances, continually changing the best and most reputable affordable brands available.
A brand that often thinks about the quality and variety of its items and management.
Thought in fragments, with high productivity, low fundamental complexity of activity, advancement and administration.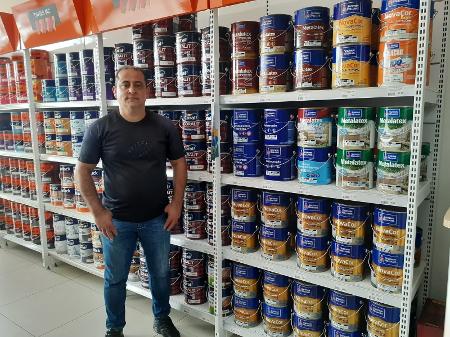 Image: Uol Reproduction
In early 2020, Rogério Cavallo bought Tintas MC, and under the new administration his franchise earned R$ 2.9 million still in 2020, making a profit of 8%.
With the arrival of the Pandemic, three months after Rogério Cavallo bought 100% of Tintas MC, the store closed its doors twice and this caused the store's sales volume to drop 50% in 2 months (April and May).
To face a 50% drop in sales, Rogério Cavallo bet on two channels: WhatsApp and telephone, and with that, generating 75% of Tintas MC's sales through telesales channels.
Where to find:
MC Alphaville Paints -
Facebook
and WhatsApp: (11) 99938-4190.
(Adapted article)
Source 1:
https://franquias.portaldofranchising.com.br/franquia-tintas-mc/
Source 2:
https://economia.uol.com.br/empreendedorismo/noticias/redacao/2021/10/23/tintas-mc-funcionario-dono-loja.htm